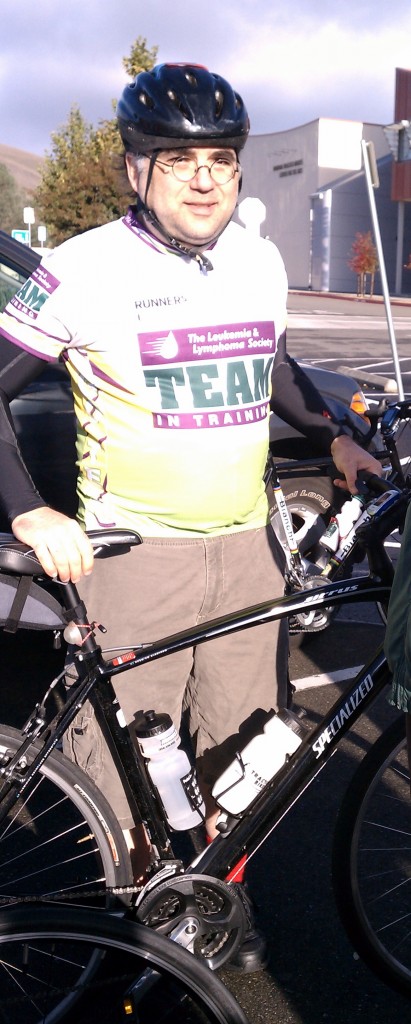 All right, this is kind of scary — I have signed up to bike in a 100-mile race, the "Solvang Century," next March 10.  That distance is approximately 99 miles longer than my usual bike ride; plus, I suspect there will be hills.  But I am determined to follow through — and, in doing so, to raise money to fight blood cancers, as a member of the Leukemia & Lymphoma Society's Team In Training.  (I also hope, in the course of training, to drop a few pounds off my less-than-chiseled physique.)
If you'd care to support me in this noble and sweaty quest, you can go to my TNT fundraising page.
Last Saturday I participated in my first group training session.  It was in Livermore, Calif., at 8:30 a.m., and my wife, Sara, was kind enough to drive me from Berkeley.  I had bought a bike rack for the back of her car the night before, and in the early morning I tried my best to attach it to the rear hatch.  As we zipped along the highway, Sara noticed that the bike seemed to be swaying dangerously: apparently, I hadn't secured all the cords correctly.  I don't know if you've ever seen the classic film Wages of Fear, in which a bunch of desperate guys try to drive trucks filled with explosives over bumpy terrain without getting blown up — but the suspense was comparable.
Fortunately, my bike was still (barely) attached when we arrived at the start of the training ride.  Among the crowd of fit-looking people in stretchy clothing was my TNT "mentor," Sue Doyle.  (Prudently, Team In Training has chosen to go by the acronym TNT, rather than the more suggestive TIT — though I believe the latter would get more Google hits.)  Like many participants, Sue had lost a beloved family member to blood cancer.  We also had among us people who right now are undergoing treatment; it was moving, and inspiring, to see them on their bikes, ready to go a long distance.  Blessed to be in excellent health myself, I made a mental note to try not to be a wuss.
This training ride was to be 20 miles — to me, an unimaginably long distance.  Sara stuffed a power bar (and something else, which unfortunately turned out to be anti-chafing chamois cream — not the type of thing you want to ingest) into the back pockets of my TNT jersey.  I found my team (I'd asked for the slowest of the five riding groups), and we headed off.  I prayed that I wouldn't humiliate myself.
Well, it was really lovely!  I'm pretty sure they went easy on us for this ride by avoiding truly gnarly hills — but still, we biked over 20 miles!  After about mile 5, I really wanted to pee; fortunately, by about mile 10 I could no longer feel my genitals, so it didn't really matter.  We passed horses and cows and goats and maybe one donkey.  We learned about "drafting," in which the first person in a single-file "pace line" blocks the wind for his or her fellow riders; I was complimented on the large amount of air I blocked!  We learned about hand signals and verbal warnings to use with teammates.
And after what seemed like no time at all, we were done!  When I first got off my bike, I walked like a stereotype John Wayne, but pretty soon I was ambulating normally.  We each practiced changing a bike tire, and a really nice guy named Tom showed Sara and me the right way to attach the bike rack to her car, and we headed back to Berkeley.
This coming weekend we are scheduled to have a "buddy ride."  Using state-of-the-art technology, I will post all the details here in my blog.  Below are the stats from my first training ride, last Saturday (I forgot to wear the heart monitor, so I don't have heart-rate figures — but trust me, my heart was pumping fast!).
And again, if you'd like to support me — and help find a cure for blood cancers — as I train for the Solvang Century, you can go to my TNT fundraising page.