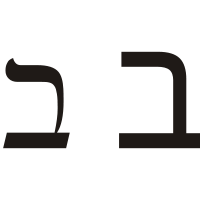 A dog doesn't want me to be typing right now.  We're at the Vermont home of my wife's oldest brother, Denry, and his wife, Chris, and their daughter, Nadya.  They have two goats, one of whom has miraculously recovered from a complete de-horning, and two very friendly dogs (and, I think, two cats — they're reclusive).
One of the dogs just licked my elbow.  At least, I'm hoping that was a dog.
Amazingly, our Israel trip happens in less than two weeks!  I have transliterated my parsha by listening repeatedly to an audio recording that Rabbi Creditor made for me on my phone.  Now I must use my rusty ear-training skills to add the music, or "trope," again from the rabbi's recording.  He sings much more beautifully than I will, but I'll do my best.  In his voice, the trope sounds hopeful, joyful, uplifted — quite a contrast with the actions being described.  It sounds neither minor nor major, but in some kind of ancient musical mode.  And yet how the tune ends is on a note that I would call suspended — if it were in a typical Western key, the last note would be the second tone in the scale.  The effect, on me at least, is a feeling that the tale has not yet been fully told.
For much of my life I have felt as though I am living out, in a kind of passive way, someone else's story.  Things happen to me, and to others, and I have hoped only not to make things worse with my actions.  It is as if my biblical namesake had simply broken the walls of Jericho and made a big mess for everyone else to clean up.  My reading of the Torah, including this bar mitzvah prep, is calling on me to act — to risk involvement in the world.
When we Jews leave the margins, do we break things?  Are we the goat in the china shop?  I want healing, and I want to keep my ironic horns — so what, O God of Pinchas and Moses, of Benjamin Netanyahu and David Grossman, am I to do?
A hunch: God wants me to be typing right now.