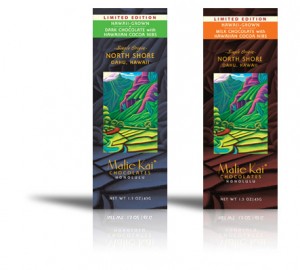 A few years ago, my sweet brother-in-law Nathan Sato and his lovely wife, Miki Azuchi, ran off to Hawaii and launched a brave and improbable new career making delicious local chocolates.  Due to the intense yumminess of their products, their company, Malie Kai, has been branching out — just now reaching the Bay Area, where both outlets of the Berkeley Bowl now carry their stuff.
These chocolate bars (which come in several varieties — including with crunchy "nibs," my favorite) make excellent stocking-stuffers — though our own most recent samples mysteriously "disappeared" before they could make it into any stockings.
Highly recommended!!