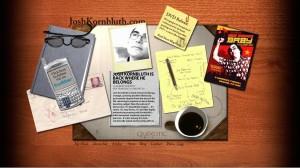 I'm thrilled to announce that my website has been treated to a fabulous makeover, through the genius of designer Joe Pignati. Please check it out — and give me your feedback, pro and con, by clicking on the "comments" link below this blog entry. We'll keep amending and tinkering the site based on what we hear back from visitors.
And please also check out my brand-new online store — which you can reach through my website, or by clicking here. You will find there — available for the first time — the fantastic concert-film DVD of my monologue Red Diaper Baby, along with the Red Diaper Baby book (which contains the text of that piece plus two others, Haiku Tunnel and The Mathematics of Change).  If you buy both the DVD and the book, we'll throw in a complimentary mini-canister of baby powder (a product that features prominently in Red Diaper Baby).
Again, your feedback on the website and store would be vastly appreciated!!