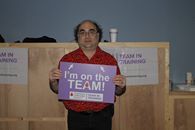 Yikes!  I'm about to start training for my third "century" ride with Team In Training, raising money for the Leukemia & Lymphoma Society.  The event — "America's Most Beautiful Bike Ride," in Tahoe — will be on June 1, and I need to raise at least $2,700 before then.  If you can donate any amount for this wonderful cause, I (along with numerous people with blood cancer, and their loved ones) will be eternally grateful!
After each Saturday's training ride (and my epsom-salted recovery bath) I'll be posting a blog entry, describing the experience and giving the vital statistics from the ride, along with a map of the route.  No doubt, as the rides build in difficulty from week to week, the tone of these posts will gradually morph from wry bemusement to raw anguish — which should give them the kind of dramatic arc that I've been trying for years to get into my theater pieces.
You can make your donation by clicking here or in the cool little purplish rectangular thingie on the right side of my blog page.
Thanks so much!!