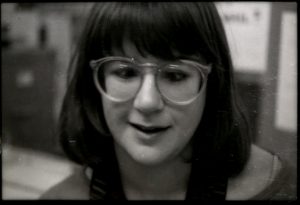 Grace Faustino was running — running with a check — running to the bank — and I was running alongside her.  The check had come in from the mother of Jimmy Weinstein, editor and publisher of In These Times (the newspaper I was working at) in Chicago, and not a moment too soon: The utilities were about to shut off our lights, and we were maybe going to get kicked out of our office space.  So the check needed to be deposited RIGHT AWAY!
Despite the pressure of the moment, Grace was smiling — laughing, even.  We ran past stores selling really cheap furniture — ran until we finally got to the bank.  The teller knew Grace; everyone knew Grace.  The depositing of the check was a joyful experience.  Afterwards, we went to a taqueria for lunch.  Grace told me a little bit about herself.  She'd grown up in a suburb of Chicago with a dad who apparently was like a totally nice version of Jackie Gleason's character on The Honeymooners.  She'd been the bookkeeper for the company that made Reggie bars — named after baseball superstar Reggie Jackson (as I recall, she said they paid him by just buying him any stuff he wanted).
I had just gotten my first apartment — a studio on the North Side.  I never washed my dishes, so they just piled up in the sink until I was out of dishes and just began eating take-out — and, mostly, going over to Grace's place.  She lived nearby, in a sprawling, cluttered apartment she shared with her friends Janusz, who did I don't remember what and made inappropriate jokes about Grace's Girl Scout troop, and a quiet, mysterious woman who was the first cousin of Squeaky Fromme, who'd tried to assassinate Pres. Jerry Ford.
In the living room was a record player, and the records (vinyl) were stacked up without sleeves.  Grace liked to put on one record and play the same side over and over.  I'm especially remembering the Roxy Music album that had "Love Is The Drug" on it; that got played a lot, and I never got tired of it.
Grace and Janusz were usually in the kitchen, where there were three TVs stacked up: one that had picture but no sound, one that had sound but no picture, and another one that was just generally fucked up.  Grace was an enthusiast for any food that contained a lot of fatty dairy product — e.g., cornflakes in heavy cream.  I'm also pretty sure that Grace frequently fried up her own pork rinds.  She and Janusz, and their reclusive roommate, smoked a LOT of pot and watched the Three Stooges and The Rockford Files, among other shows.  I hung out with them, didn't smoke pot, soaked in the vibes and the smoke and the music, and felt loved and included.
Especially when high, or at least happy, Grace would address me by stretching out my name: "Jo-o-o-o-osh …"
Once, Grace invited me to have Thanksgiving at her parents' place.  I remember her father ebulliently walking around offering everyone shrimp cocktail from a tray while we watched football.
At the time, my father was living in a post-stroke daze in Michigan, while my stepmother, Sue, took care of him and my young brothers and sisters — and, for a time, her own mother, who'd had a stroke nearly at the same time as Dad did.
Twice, Grace and Janusz organized trips to the Michigan Dunes.  The first time, we were camping.  It was raining — hailing, actually — but we somehow set up our big tent (there were about a dozen of us) and got a campfire lit.  I'd bought a pair of hiking boots with Vibram soles, and for a while I put them (and my feet) near the fire; at some point, I looked down and saw that the soles had melted into grotesque lava-esque shapes (because of the boots' insulation, I didn't feel a thing); afterwards, the soles hardened that way, so I had to walk funny in them. …  Our second trip to the Dunes happened during winter.  We stayed at a lodge run by a German guy who compulsively followed every sentence with "… as far as that thing goes."  As in: "Here are your rooms, as far as that thing goes."  We went cross-country skiiing, which, after a while, I kind of got the hang of.  I remember at night watching Grace and the others repeatedly skiing down a dune: all I could see of them was the red, glowing tip of the joints they were smoking.
Grace, Janusz, and I went to club once to see the great punk band Pere Ubu.  The lead singer, David Thomas, a very large man, lurched about the small stage.  The whole concert was thrilling.  I was not with Grace when she and Janusz went to see Talking Heads on tour; Grace said she'd literally fainted from being in such close proximity to David Byrne.
Here's my favorite Pere Ubu song:
One night I was in my apartment when Grace called, totally distraught.  "John Lennon is dead!" she cried.  I went right over to her apartment, and we shared our shock and sadness.
After two years at In These Times, I had the opportunity to take a position on the East Coast, at the Boston Phoenix.  By this time, Grace had come over to my apartment and washed all my dishes, which had become covered in mold and such.  On my birthday, she'd surprised me with a cake she'd baked — made out of a huge number of Twinkies, covered with whipped cream and tiny, multicolored marshmallows.  When I'd moved to another (nearby) apartment, she and Janusz gave me tons of help. …  I couldn't pack for Boston; I froze.  Grace and Janusz had rented a U-Haul to take me cross-country; when they showed up the morning of the move, they boxed up all my stuff for me; then they drove me from Chicago to Boston, the three of us squoze in together in the cab of the truck.
After I'd been in Boston for a bit, I heard from Grace that she'd fallen in love with a wonderful guy named Jeff.  They were going to have two weddings (to accommodate each family): one in New York, and one in Chicago (at a bowling alley).  I was broke and couldn't get to the Chicago event, so Grace somehow got the money for my plane ticket.
I went back to Boston.  Grace and Jeff had two boys.  Time went by, and we stayed sporadically in touch.  And then Grace called me one day and said she'd just gone through treatment for breast cancer, which had metastasized.  She sounded tired, but like Grace.  She was fighting to stay alive.  She still called me "Jo-o-o-o-osh …"  I thought of her running to the bank, check in hand, laughing.  I thought of all the days, and evenings, where she gave me comfort and joy, where I felt appreciated at a time when I did not feel myself to be deserving of appreciation.
After Grace died, I stayed in touch with her husband, Jeff, who eventually found another wonderful woman to be his partner and help raise his sons.  Then Jeff died, suddenly.
When I was in Chicago recently, helping my mom to move, I kept having this thought: I'll go visit Grace!!  And then I'd remember, again, that she was gone.  Somewhere her two boys are grown up.  Somewhere else Janusz has become a family man.  That period in my life — 1980-'82 — lives in my memory as a dark storm of self-recrimination, with this warm spot somewhere within it, glowingly lit by three busted televisions, with pot smoke and the smell of pork rinds in the air and "Love Is the Drug" playing on the record player, and things were so terrible everywhere else, it seemed, but here there was peace.